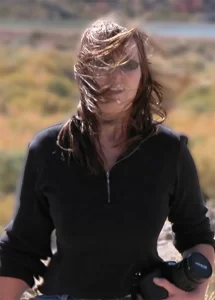 Creating her digital art in Photoshop, Vic Holland produced the vibrant images for Dragons of Orion.
I think Adobe Photoshop™ is a marvelous tool, but it takes many years to learn. After 5-6 years of hard study, I still feel like a beginner at times. I also use a Wacom Intuos Pro tablet™, but someday hope to have a Cintiq™. I'm barely getting started with 3D in Blender™, but it seems pretty cool so far.
I'm an amateur photographer, and—through the years with my Nikon camera—I've been able to stock a library of great images from our travels. The Oregon Coast is a favorite destination. We have two beautiful Labrador Retrievers, one little lady is black and the other brown. They love to swim in the ocean, and travel with us in our RV—always willing to go.
As an Information Systems Analyst during my career at the U.S. Geological Survey, and also a Database Systems Administrator, I maintained information in the USGS Procurement database and performed ad hoc data-mining through Crystal Reports per management requests.
I have a Bachelor's Degree from the University of Wyoming; a Master's Degree in Government Contracting from University of Phoenix; and a Master of Business Administration (MBA) in Finance and Accounting from Regis University in Denver. None of my university degrees were in the Fine Arts. To that end, I have used courses from Udemy™, and I am self-taught in the creation of art and illustration from books, tutorials, and YouTube™. I have many favorite digital artists, whom I recommend, such as: Feng Zhu, Marco Bucci, Proko, Imad Awan, Walid Feghali, PhLearn, Robert Marzullo, and Jordan Grimmer, to name only a few great people out there providing excellent content on YouTube.
I hope you enjoy my illustrations.
My wonderful husband, Robert, and I both thank you for giving us a moment of your time.